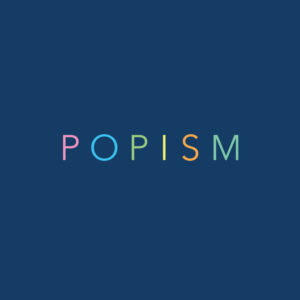 POPISM is the new 4 track EP (
matinée 104
) from Brighton's irrepressible indie-rockers
The Popguns
. The title POPISM is inspired by a love of the unpretentious power of pop music at its simple and expressive best. Pop has no need for artfulness, authenticity, or intellectual approval but tells us the honest and unambiguous truth along with the overriding feeling that happiness is always possible.
Two tracks on the EP embody this ethos perfectly.  'Red Cocoon' relives the fuzzy memories of a mildly debauched festival weekend, with the hangover of the working week looming ahead, while 'Indie Rock Goddess' is a tongue-in-cheek two-minute blast promoting the excellence of growing old disgracefully.
Slightly contrary to those POPISM principles, the EP also contains two songs of elusively nuanced meaning. 'Caesar' is a big pop rush of strings and guitars and hopes that the next generation can make a better job of protecting the natural environment than this one has, while 'Dirty London' describes how the statues and buildings of power around Whitehall announce the memory of power and empire to a well-intentioned population who must inevitably inherit the dirt along with the freedom and prosperity.
The EP is released on 7" vinyl through Matinée and on CD through the Popguns' own SnugPop Recordings. Both formats are available right now from the
Matinée shop
and
The Popguns Bandcamp
so if you are in the UK you can save on postage from ordering from the band link.  Look for it in good record shops and mailorders in the coming weeks.
All four tracks are featured on the Matinée Soundcloud at the moment, so you can listen while you shop!