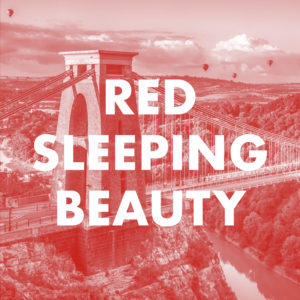 The first of several new Matinée 7″ singles on our release schedule is from Swedish legends Red Sleeping Beauty, who return to the new release racks today with an exclusive new EP, 'From Sarah With Love' (matinée 103), that pays tribute to the brilliance of the late 80s/early 90s English label Sarah Records.
The single kicks off with 'Solid Gold'—a collaboration with Sarah Records heroine Amelia Fletcher (Talulah Gosh, Heavenly, Marine Research, Tender Trap, The Catenary Wires) providing ace lead vocals and her usual dose of pop magic. With this song, Red Sleeping Beauty have come full circle. Starting out as a jangly guitar pop band in the 1990s and coming back after a 20-year hiatus in 2016 as an electronic synth pop trio, Red Sleeping Beauty return to their roots on this track—a bouncy, jangly, singalong guitar pop smash.
The lead track on the flipside is 'Second Time'—a collaboration with Sarah Records goddess Mary Wyer (Even As We Speak) delivering lush lead vocals and the Australian charm that only Mary could add to this essential track. It sounds like the kind of song Saint Etienne released at their peak—a hi-energy, sophisticatedly laid back, dance floor filler.
To complement these all-star collaborations, Red Sleeping Beauty recorded cover versions of two early Sarah Records hits—'Pristine Christine' originally released by The Sea Urchins on Sarah 001 and 'I'm In Love With A Girl Who Doesn't Know I Exist' originally released by Another Sunny Day on Sarah 007. Realizing it is impossible to improve on such perfect songs, the band chose to reinterpret them in the characteristic Red Sleeping Beauty style to create a perfect four-track EP.
Limited to 450 copies on black vinyl and with artwork reminiscent of classic Sarah singles, this 7" release is a heartfelt tribute to one of the most influential indie labels of all time and an essential addition to the Red Sleeping Beauty and Matinée discographies.
Special thanks to Amelia and Mary for their ace collaborations, to Another Sunny Day and The Sea Urchins for inspiring the two cover versions, and to Clare and Matt at Sarah Records for giving us something to celebrate. 
The 7″ is available right now from the Matinée shop and the Red Sleeping Beauty Bandcamp, and there should be a few copies available at this weekend's Glas-Goes Pop Festival in Scotland as well.  Look for it in good record shops and mailorders in the coming weeks.
Pro tip no. 1: the digital EP in the Matinée shop includes a bonus fifth Sarah Records track—Red Sleeping Beauty's cover of The Field Mice classic 'Emma's House'—which was originally released on their stunning 'Tonight' CDEP (matinée 099) in 2019.  That EP, along with the band's 2019 album 'Stockholm' (matcd084) should be in your cart if you haven't gotten them already.  We also have restocked the band's fantastic 'Always On Your Side' CDEP (Sunday 960) on Sunday Records in case you missed that one.
Pro top no. 2: if you preordered the new 'Happy Secret' LP (matlp093) from The Lucksmiths and would like to have the new Red Sleeping Beauty 7″ shipped with it, just email us at matineepop@hotmail.com and we will get back to you with a special discount code that should negate most if not all additional shipping charges on the Red Sleeping Beauty 7″ single.  The Lucksmiths LPs are due back from the pressing plant next week so we'll be able to get all preorders shipped then.  Thanks very much for your patience!
The collaborations with Amelia and Mary are featured on the Matinée Soundcloud at the moment, so you can listen while you shop!