We are thrilled to announce that a special vinyl edition of the classic 1997 album 'A Good Kind of Nervous' (matcd089) from Australian hitmakers The Lucksmiths is in the works!
The album is at the pressing plant as we speak and you can preorder it right now on classic black vinyl or limited edition orange vinyl, with copies shipping on or around December 4 if all goes to plan. We also have restocked the album on CD for anyone who missed it the first time around.
Note: this is a co-release with the magnificent Lost and Lonesome Recording Company in Australia, so please support your local label!
Known for their short and bittersweet indiepop songs, economical set-up and charismatic live shows, The Lucksmiths formed in 1993 and initially consisted of singer/snare-drummer Tali White, guitarist Marty Donald, and bassist Mark Monnone.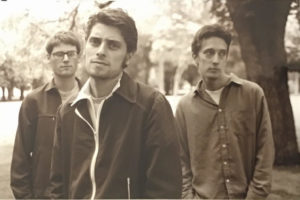 The band's fourth album A Good Kind of Nervous introduced them to new audiences at home and abroad (including an invitation to open for Belle & Sebastian on the Scottish band's first ever European tour) and is considered a high water mark for the early-Lucksmiths sound; 'Under the Rotunda', 'Guess How Much I Love You', 'Caravanna' and 'Punchlines' all went on to become perennial live favourites.
Steeped in the Melbourne milieu that The Lucksmiths often referenced in song, the album was recorded in a poorly-heated Victorian terrace in Carlton (which was soon to become a hair salon) and mixed in Mark Monnone's Fitzroy North house, across the road from the Edinburgh Gardens – the same neighbourhood that inspired the bassist's skyline silhouette print which adorns the album's cover.
Reflecting back on the album, chief Lucksmiths songwriter Marty Donald tells us:
"A Good Kind of Nervous seems to me now like an early milestone in our career – or a stepping stone, maybe, between the happy-go-lucky kids we started out as and the somewhat more ambitious band we would become. We began to tour more widely after making this record, in Australia and overseas, but it feels very grounded in the inner-northern suburbs I rode my bike through each morning in October 1997, on my way to the studio on Elgin Street. 
My favourite moments on the album are those that are drawn more or less directly from the lives the three of us were living back then. I hadn't given up entirely on the idea that pretty much any subject might be turned into a pop song (see the forays into the sub-genre of true-crime indie), but the realisation that there was ample inspiration to be found in everyday experience was a watershed for me, which has underpinned my songwriting ever since. 
All these years on, I think you can hear in these songs a band growing up: beginning to take ourselves – or at least what we were doing – a little more seriously, and to see where it might lead us."
Originally released on CD in 1997 by two iconic indie labels of the day – Candle Records (Australia) and Drive-In Records (US) – A Good Kind of Nervous served to launch the band from their Melbourne cradle into the waiting world and what was to become a long procession of international releases and touring until the band's split in 2009.
The 2020 release — the first time the album is available on vinyl — is officially released December 4, but you can preorder a copy RIGHT NOW exclusively from the Matinée shop!
You can also listen to a few gems on our Soundcloud: