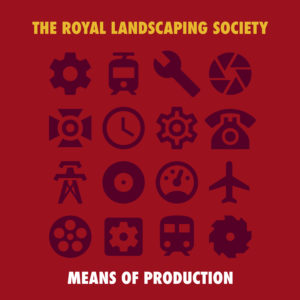 Happy New Year!  Matinée has been relatively quiet since the start of the pandemic, but we are gearing up for 2022 in anticipation of our 25th anniversary!  To kick things off, there are three new releases scheduled for January and the first is the highly anticipated 'Means of Production' album (matcd088) from Spanish favorites The Royal Landscaping Society!  The album is officially released January 7, but you can order a copy RIGHT NOW exclusively from the Matinée shop.
The Royal Landscaping Society formed in Seville in 2012 as a solo project, then expanded into a band, and eventually shrunk to a duo with Cris Romero on vocals, guitar, synths, and machines and David Vidal on bass. With an obvious love for the breezier side of indiepop, the band mixes crystalline guitars and electronics to create shimmery romantic pop that has earned comparison to Sarah Records legends Brighter and The Field Mice, among others.
In addition to live appearances at the Indietracks Festival and the Birmingham Popfest, the band has released a clutch of celebrated songs on various international labels over the years. The brilliant 'Means of Production' collects these various songs into an incredibly cohesive album that will hopefully reach the bigger audience the band rightly deserves.
The album features six tracks from the band's 2014 eponymous mini-album on French label Beko Disques, a song from a special Beko Olympics compilation, the auspicious Matinée debut from the 'Matinée Idols' compilation (matcd075) in 2017, and their incredible contribution to Matinée's World Cup EP (matinée 098) in 2018. It also includes eight tremendous cover versions of indie classics including songs originally performed by Adorable, The Cure, Etienne Daho, Harper Lee, McCarthy, Slowdive, The Softies, and They Go Boom! All tracks have been meticulously remastered by the band exclusively for this definitive collection.
The band is working on three simply stunning new recordings that will be released on a 7″ single for Matinée next. In the meantime, catch up with their impressive backstory perfectly curated on the 'Means of Production' album.
See the handy Soundcloud playlist below to sample some of this goodness!