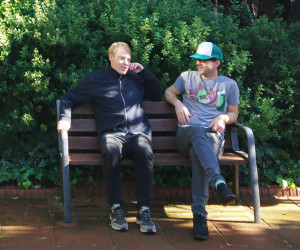 We have been big fans of Swedish duo My darling YOU! since their self-released EPs early last decade all the way through a stunning run of releases on the Luxury Records label. They are masters of a sort of shouty, energetic pop that appealed to our teenage punk addiction in the same sort of way that Sportique did in the very early days of Matinée.
Some people used to say that Sportique were not a typical Matinée band … whatever that means … and the same people might think that about My darling YOU! but of course they would be wrong.
Sometime recently we heard a rumor that the band may have new recordings on the horizon and figured it was as good a time as any to get in touch with them. This correspondence resulted in a plan to release an album entitled 'A Dream Come True' this summer that collects 20 tracks from sold out EPs previously released by the band.
One of the tracks from the compilation is 'Thanks For Letting Me Stay' which originally appeared on the band's final release in 2011. It's a song about drinking too much and regretting it the next day and it has a fantastic shambolic energy to it that is typical in their recordings.
We are advancing the album with a digital single (matda016) including this song and a track called 'Spring' that will not be on the compilation. The single is available today in the Matinée shop or from your favorite digital retailer so we are excited to officially welcome the band to the Matinée roster. 'Thanks For Letting Me Stay' is also a featured track now on our Soundcloud!