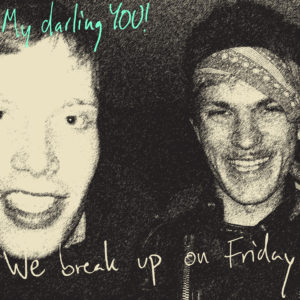 The 20-track retrospective collection 'A Dream Come True' from Swedish duo My darling YOU! is at the pressing plant and on course for release next month!
To preview the album, the band releases a fantastic single called 'We Break Up On Friday' next week.  The title track is a keyboard driven manic pop thrill—68 seconds of shambolic, shouty pop that will have you immediately reaching for the repeat button.  The single also includes 'I Adore You', a non-album bonus track about adoration and heartbreak.  Look for album preorder details soon so you can add this to your Christmas list!
The digital single (matda021) is released November 17 via the usual digital merchants including Spotify, Apple Music, and Amazon, but you can get it right now in the Matinée shop!  'We Break Up On Friday' is also a featured track on our Soundcloud!