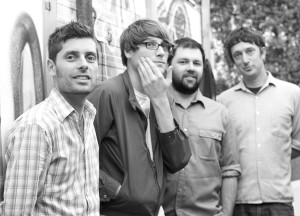 Next Thursday, August 29, marks the 10th anniversary of The Lucksmiths farewell show, performed to a packed room at the Corner Hotel in their hometown of Melbourne, Australia.
The show capped off a lengthy farewell tour of Europe and Australia with Marty, Tali, Mark and Louis playing a different set of songs each night. The final night, with a bumper 33-song setlist, was recorded to video to enable the release of a very special farewell concert DVD called 'Unfamiliar Stars' (matdvd058).
To commemorate the passing of ten years we are holding a week-long sale, beginning today, with a handsome 50 percent off the 'Unfamiliar Stars' DVD and nice bargains on the entire in-stock Lucksmiths CD catalog. This is a great opportunity to fill in remaining gaps in your Lucksmiths collection or introduce a secret crush to your favorite band with an old school CD or DVD. Pro tip: offer to watch the DVD with your crush and you'll have a solid chunk of quality time together!
To join the week-long celebration, our good pals at the Lost And Lonesome Recording Company in Australia are also marking down their Lucksmiths CDs and DVDs so please limit your carbon emissions by purchasing from whichever label is closest to you. Important note: The Matinée DVD is an all-regions disc in NTSC format and the Lost & Lonesome DVD is in PAL format.
A selection of Lucksmiths songs is copied below to remind you of their brilliance!