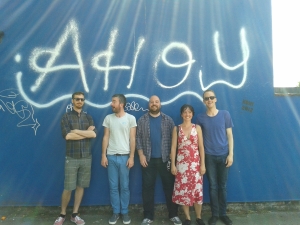 It has been a little over a year since English band Seabirds won the prestigious song of the year category in our annual Matinée fanclub poll with their debut single 'Real Tears' but they have just landed on US soil for two shows this week!
You probably have heard they are part of the amazing 2015 NYC Popfest lineup along with our newest signing The Catenary Wires. Seabirds play on Sunday, May 31 at Littlefield with six other great bands including The Holiday Crowd and Club 8!
Seabirds also play in Philadelphia on Saturday, May 30 at Connie's Ric Rac and you can see complete details on this show here.
In other exciting news, we are finalizing the debut Seabirds album 'Meet Me In The Silence' for a July release! The album features ten amazing songs: 1. Lapsed Catholic Blues; 2. Raised By Wolves; 3. Real Tears; 4. Nancy and Lee; 5. Black Sand; 6. Independent Horses; 7. No Fireworks; 8. Six More Weeks of Snow; 9. Mouths of Lovers; 10.Tears of St. Lawrence.
Watch for release details and preorder information in the coming weeks. In the meantime, you can listen to the new track 'Independent Horses' and their award winning debut single 'Real Tears' on our Soundcloud: